About Mark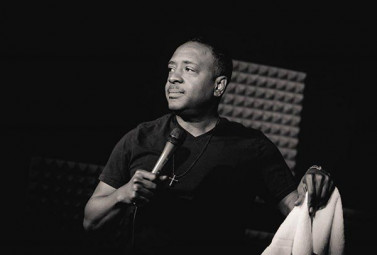 Born and raised on the Southside of Chicago, Mark Simmons knew early in life that he possessed the gift of humor, but more importantly, he enjoyed the feeling he derived from making people laugh. Following graduation from Illinois State University and a successful stint proudly serving his country as a member of the United States Air Force, Mark returned to his native Chicago. On a dare from a friend, Mark auditioned for the Miller Lite Comedy Search, a high profile marketing initiative from the Miller Brewing Company designed to locate and cultivate new comedy talent. In spite of his limited experience at the time, Mark made an instant impression on the judges, making it to the semi finals of the competition. While he didn't win the championship, the experience was enough to present Mark with his true calling.Mark concentrated all of his efforts into becoming a world class entertainer. He honed his craft playing clubs, colleges and venues throughout Chicago and across the United States. Mark has developed a following around the world through stand out performances in several countries including Germany, Italy, the Netherlands and the U.S. Virgin Islands. In 1998, he made his first national television debut appearing on B.E.T.'s "Comic View" and has remained an audience favorite appearing on the show every season since.
2000 proved to be a defining year for Mark's career. In 2000, Mark won the prestigious Miller Genuine Draft Comedy Search and the Mid-West Finalist in the National Salem ORB-E Emerging Artist Contest. As a founding cast member and writer for the sketch comedy troupe "Forgotten City", Mark and his fellow performers enjoyed an extended run on one of the stages of "The Second City Theater" in Chicago, one of comedy's most celebrated venues.
Mark continued to grow as an artist while expanding his talent and experience. He followed the success of 2000 by landing a role in MGM's breakaway hit Barbershop and reprised his role in Barbershop 2: Back in Business. The year 2005 was a busy year for Mark, starting with his third role in a major studio motion picture, in the 20th Century Fox film Roll Bounce, a feature comedy spot on the television comedy show "P.Diddy's Bad Boys Of Comedy" on HBO, and starring and touring in the multi media play "Real Men Talking". In 2010 Mark appeared on the Starz Network's stand up show "Martin Lawrence's First Amendment Stand Up".
Presently you can find Mark working as a Guest Entertainer for Carnival Cruise Line and Norwegian Cruise Lines both domestically and internationally. Plus in clubs and venues across the United States and Canada.
In a search for entertainers, the characteristics most people are seeking are professionalism, energy, integrity, a high recognition factor and most of all original talent. All of these attributes can be summed up in one name... Mark Simmons, one of the most promising new faces on today's comedy scene.